NOTICE: Your Health & Well-Being Matter Most
In light of concerns expressed surrounding COVID-19/Coronavirus we, with the support of the PTW Board, decided to close for two weeks effective end of day, March 13th in an effort to keep our clients and staff safe. Our intended reopening was scheduled for Monday, March 30th, but is now dependent on when the mandate for gym closures (issued March 17th) is lifted. As an organization, we will do our best to stay informed on the state of the pandemic and keep clients, supporters, and staff updated as we know more.
Thank you for your understanding and patience as we navigate through this situation.
We strive to maximize your health and well-being.
Redefining Possibilities for the
Spinal Cord Injury and Paralysis Community
We empower our clients… and are inspired by them.
Individuals with paralysis including spinal cord injuries, traumatic brain injuries, stroke, multiple sclerosis, cerebral palsy, and other neurological conditions come to Push to Walk for training and support that helps them live productive, independent and fulfilling lives.
DONATE NOW
Give hope to our clients and make it possible for more individuals to benefit from our exercise program.
Donate to PTW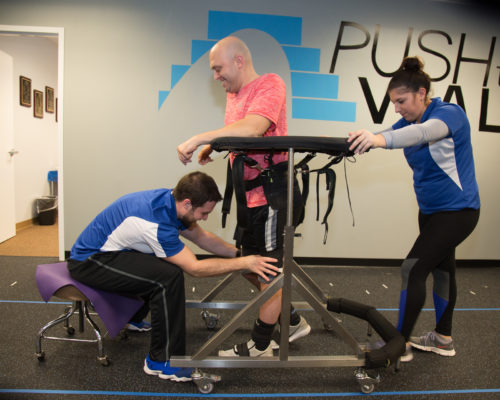 STOP IN
Visit Push to Walk during one of our Open Houses throughout the year to see our Oakland NJ facility and the great work our exercise trainers and clients do every day.
Open House Schedule
"My daughter is not only healthier and stronger, but also happier and more self-confident as a result of her one-on-one workouts at the Push to Walk after physical therapy exercise center." – Susan C., Client Parent
MORE TESTIMONIALS
Push to Walk (PTW) is a specially equipped gym and resource center that has provided adaptive exercises to individuals dealing with traumatic injuries for more than thirteen years. Push to Walk (PTW) is a nonprofit 501(c)3 located in Oakland, New Jersey. Our mission at PTW is to provide individualized workouts and resources to people with spinal cord injuries and other forms of paralysis to optimize current quality of life and to prepare for future medical advancements.
PTW was founded in 2007 by people who have been directly impacted by paralysis, and understand the physical, psychological, emotional, and financial effects it can have on those who experience such trauma. In 2004, Darren Templeton sustained a spinal cord injury when he dove out of the family's boat into shallow water. A superlative skiing and hockey athlete prior to the injury, Darren was not satisfied with the progress he made in traditional physical therapy. However, he soon realized that the post-rehab paralysis community is an underserved population; there were no intensive exercise facilities in the Northeast where he could train. So, he and his parents, Cynthia and John Templeton founded Push to Walk in January 2007 to meet the unmet need for a long-term post-rehab training program.
As a result, PTW opened its first facility in January 2007 in Bloomingdale, New Jersey, and welcomed their first three clients. Since then, with the help of specialized trainers and a small but passionate administrative team, they have remained dedicated to providing the services and environment necessary to help individuals with paralysis live more independent and fulfilling lives.
Located in Oakland, New Jersey, PTW houses a 7,435 square foot gym with state-of-the art equipment. Certified trainers are available seven days a week to work with clients. PTW focuses on helping individuals build healthy lifestyles and improve their day-to-day lives. We use training methods to help clients regain strength, function, and independence.
PTW accomplishes this through an individualized exercise training session and the use of specialized equipment. Our trainers are certified in methods shown to work with people who have spinal cord injuries, multiple sclerosis, traumatic brain injuries, and other forms of paralysis. They have nationally recognized certifications from the American College of Sports Medicine (ACSM) and the National Academy of Sports Medicine (NASM) and participate in continuing education and specialized courses including the Neuro Recovery Network (NRN) in Locomotor Training. Push to Walk's trainers work very hard to promote confidence and inner strength in each client. They encourage everyone to identify and embrace a good work ethic, so clients may see improvements in their daily lives.
The importance of organizations like PTW cannot be underscored. Americans living with paralysis are among the most underserved populations in our society, particularly after they complete traditional rehabilitation therapy (i.e., insurance approved physical and occupational therapy). After rehabilitation ends, these individuals must find other means to continue physical exercises at their own cost. Traditional fitness facilities typically lack sufficient accessible space, specialized equipment and certified trainers who are experienced in working with individuals who have various forms of paralysis.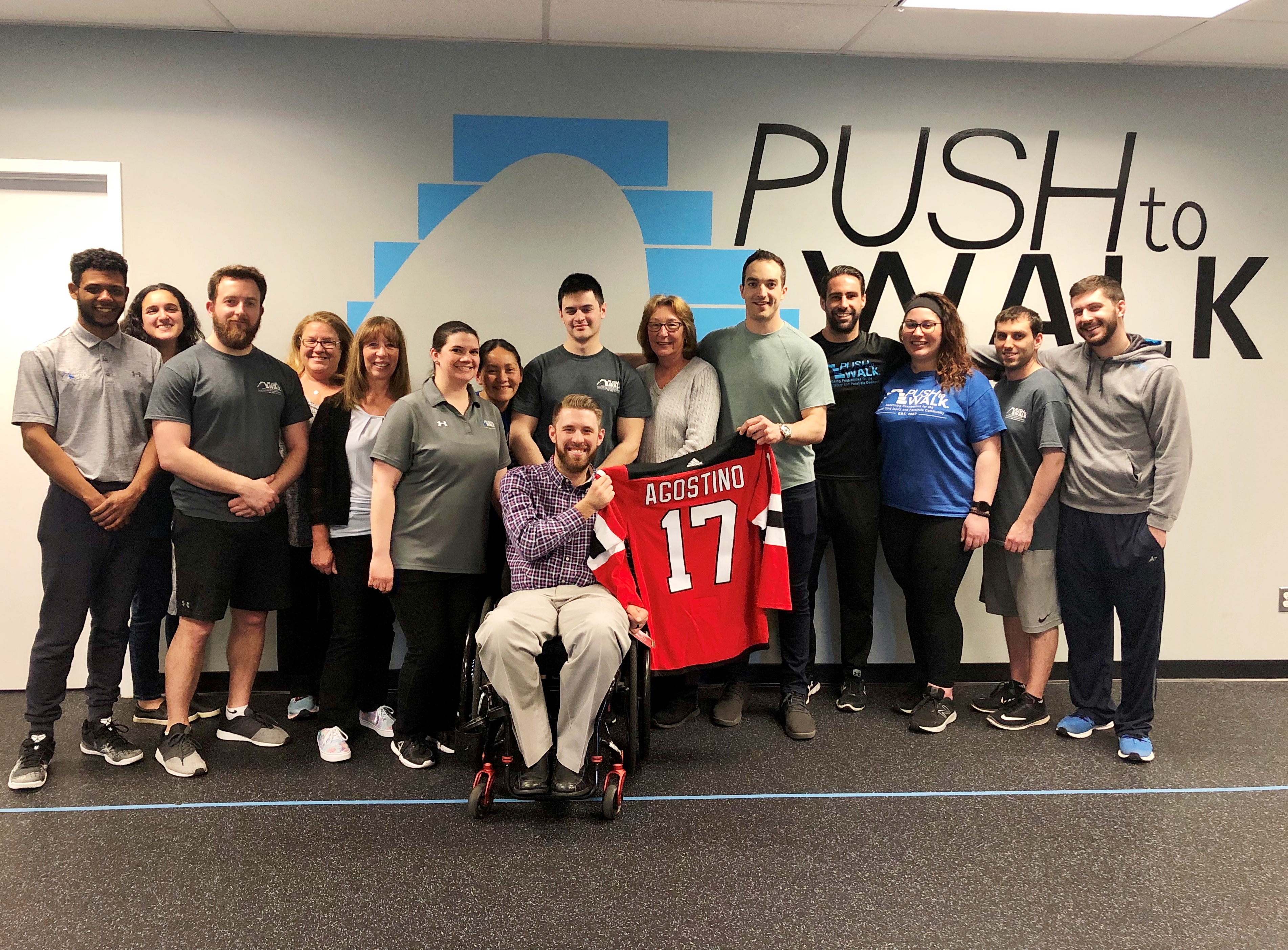 Research shows that a paralyzed individual will incur lifetime costs ranging from $1.6 million to $4.8 million. It also shows that people living with paralysis have households with lower incomes, thus increasing the financial burdens on them. PTW is a cost-effective resource to this community. Our fees for client training sessions (which most often involve a trainer and at least one aide) represent only 70% of the actual cost. The remainder is funded through grants and individual donations. We also have a "scholarship" program in place to offer financial assistance to those who cannot afford the $98 reduced cost of training.
Underserved populations, including racial/ethnic minorities, individuals with low socioeconomic status, and individuals with physical disabilities, are less likely to engage in sufficient moderate to vigorous physical activity and are thus at increased risk of morbidity and mortality. The National Center on Physical Activity and Disability (NCPAD) states that exercise is especially important to the disabled population because it prevents secondary complications such as cardiovascular disease, diabetes, pressure sores, carpal tunnel syndrome, COPD, hypertension, UTI and respiratory disease. It also prevents deconditioning, muscular atrophy and obesity. Exercise also helps individuals overcome some of the barriers to participating in other aspects of society, including living independently, attending school, working outside the home, and just being socially active.
PTW has filled this void. Our services help our clients with their mobility issues and also enable them to develop the strength, flexibility and skills needed to perform everyday tasks most of us take for granted – from brushing one's teeth, to dressing independently, to driving a car, to grocery shopping, and even caring for children. As the number of individuals with paralysis continues to increase as a result of traumatic injuries and conditions such as strokes and multiple sclerosis, more and more individuals need exercise and wellness programs that are targeted to their unique needs.