NOTICE: Your Health & Well-Being Matter Most
In light of concerns expressed surrounding COVID-19/Coronavirus we, with the support of the PTW Board, decided to close for two weeks effective end of day, March 13th in an effort to keep our clients and staff safe. Our intended reopening was scheduled for Monday, March 30th, but is now dependent on when the mandate for gym closures (issued March 17th) is lifted. As an organization, we will do our best to stay informed on the state of the pandemic and keep clients, supporters, and staff updated as we know more.
Thank you for your understanding and patience as we navigate through this situation.
We strive to maximize your health and well-being.
Redefining Possibilities for the
Spinal Cord Injury and Paralysis Community
We empower our clients… and are inspired by them.
Individuals with paralysis including spinal cord injuries, traumatic brain injuries, stroke, multiple sclerosis, cerebral palsy, and other neurological conditions come to Push to Walk for training and support that helps them live productive, independent and fulfilling lives.
DONATE NOW
Give hope to our clients and make it possible for more individuals to benefit from our exercise program.
Donate to PTW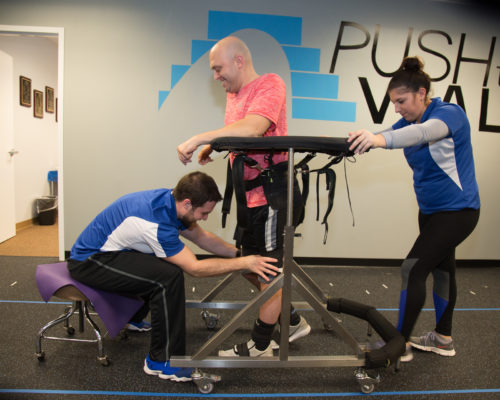 STOP IN
Visit Push to Walk during one of our Open Houses throughout the year to see our Oakland NJ facility and the great work our exercise trainers and clients do every day.
Open House Schedule
"My daughter is not only healthier and stronger, but also happier and more self-confident as a result of her one-on-one workouts at the Push to Walk after physical therapy exercise center." – Susan C., Client Parent
MORE TESTIMONIALS