Gene Murphy, Push to Walk Board Chair and Entrepreneur,
Highlights Push to Walk's Service to NJ Paralysis Community
"Leaders and organizations that lead with their hearts are more successful and drive
better results than those that don't," writes Tommy Spaulding in The Heart Led Leader. Gene
Murphy, the current chair of Push to Walk's (PTW) Board of Trustees, is such a leader.
He has been a Push to Walk Board member for five years and an advocate for, and
supporter of, the spinal cord injury and paralysis community for over a decade. An
entrepreneur, Gene founded and led a technology company for 25 years. He has brought that
entrepreneurial spirit along with his passion for serving the paralysis community to PTW as he
leads the organization during its milestone 15th anniversary year.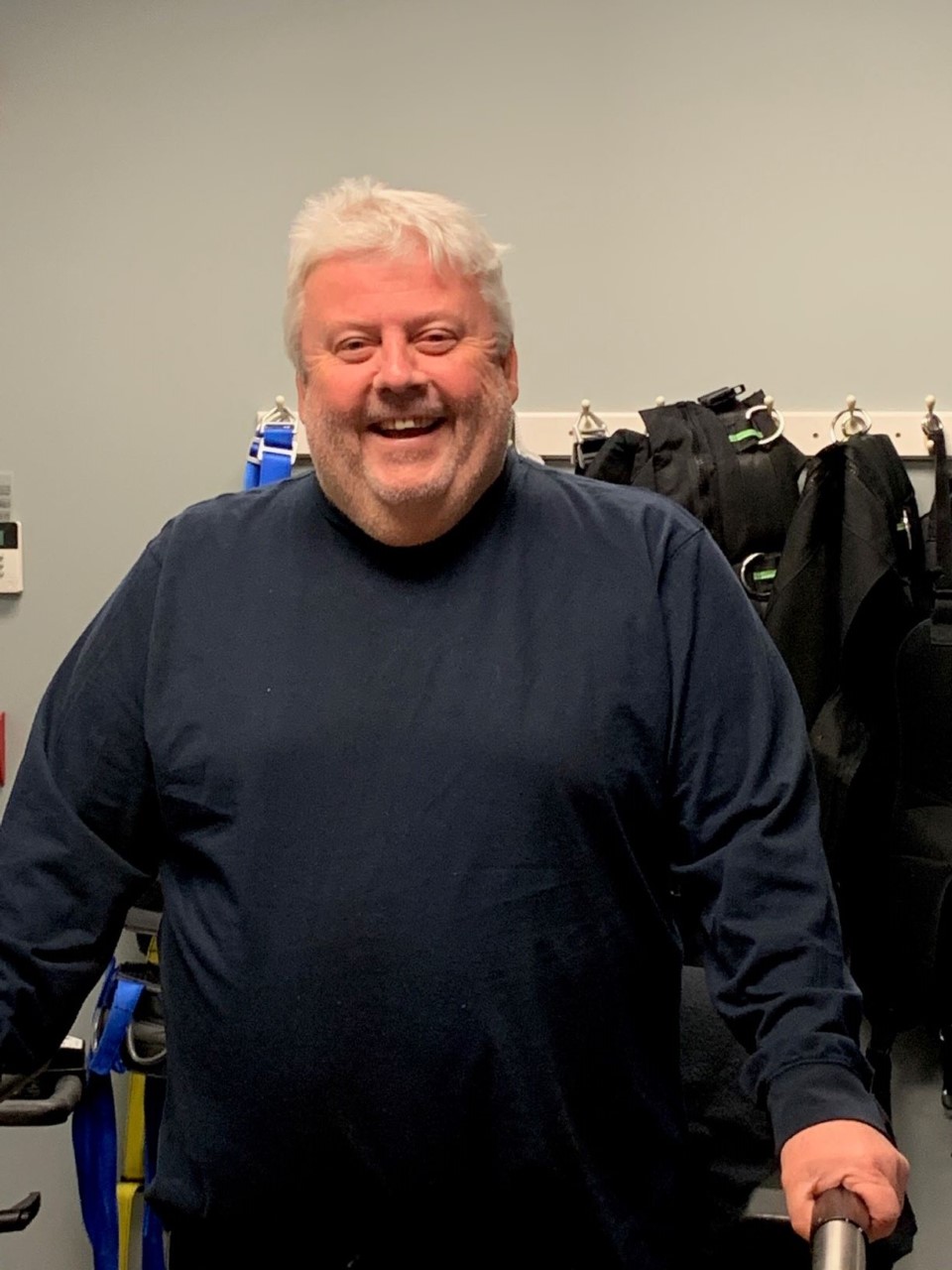 I first met Gene in 2017 at a Push to Walk Board meeting when marketing and client
service were at the top of the agenda. Not long after the meeting started, Gene was suggesting
new ways to engage clients and increase awareness of how PTW, with its specialized gym and
certified trainers, can help the spinal cord injury and paralysis community gain more
independence and improve the quality of their lives.
Since then, he has supported founder Cynthia Templeton, Executive Director Vivian
Kiggins and the entire Push to Walk team with fundraising, special events and other initiatives.
His dedication, collaborative spirit and compassion for others make him a leader among
leaders, particularly among those who struggle with mobility issues.
Gene understands well the needs of the paralysis community. In 1995, he received a
diagnosis that he had tumors on his thoracic spinal cord. Over the course of the next 15 years,
he underwent numerous procedures including three spinal cord operations. In 2008, he
became completely paralyzed from the waist down. After completing a course of physical
therapy at the Kessler Institute for Rehabilitation, he searched for an exercise facility that had
the trained professionals and specialized equipment necessary to help him build his strength
and become more mobile. He discovered Push to Walk, which his physical therapist agreed was
the right next step.
As a Push to Walk client, Gene became an inspiration to other clients and to the PTW
team. In the gym, his commitment was encouraging to new clients, including those with recent
spinal cord injuries. In the board room, his volunteerism and collaborative spirit showcased his
leadership ability.
In a recent interview, Gene discussed PTW's unique role, its growth and sustainability,
and how the organization can help others who face paralysis and mobility issues.
Who can most benefit from going to Push to Walk?
Anyone with a paralysis issue can clearly gain from the training at Push to Walk. Their program is
specifically designed to address the needs of individuals with paralysis, especially those with spinal cord injuries and traumatic brain injuries. It is the only gym in northern New Jersey completely dedicated to these individuals.
What makes Push to Walk unique?
This is a gym with a staff who understands how to deal with people with paralysis and spinal cord
injuries. Their approach is personal and customized to my physical needs and goals. For example, I
wanted to learn how to transfer from my wheelchair to any other surface, such as a regular chair. I
accomplished this and more. They have specialized equipment, such as stationary bicycles with FES (functional electrical stimulation) technology. This equipment enabled me to work out more than I ever did before.
Are there other benefits of going to PTW?
Yes. In fact, I gained some unexpected benefits. Going to a gym where everybody was afflicted with
some type of paralysis made me aware that others shared my challenges. The camaraderie among the
clients was phenomenal. We shared stories and tips to help each other make our lives better on a day-
to-day basis. I no longer felt alone in the world.
What is significant about PTW's 15th Anniversary?
It is a tremendous milestone for any small business or nonprofit to remain in business for 15 years.
Many don't reach the 10 year-mark. Secondly, and perhaps most importantly, this milestone is representative of the hundreds of individuals and their families who have seen their lives improve through Push to Walk services. The dedication of the individuals who work out at PTW cannot be overstated. The anniversary is a tribute to their commitment and strength.
What contributed to PTW's sustainability?
Push to Walk's leadership, including the founders, board, and executive director, have been strategic
and financially disciplined. The pandemic reinforced the importance of nonprofits and businesses having
a stable financial foundation with adequate reserves when possible. This helped PTW to weather the
pandemic.
Additionally, PTW leaders listen well and put clients' needs first. PTW continually requests client
feedback to identify their needs, acquire appropriate exercise equipment and implement programs to
address client needs.
What has been PTW's greatest accomplishments to date?
Push to Walk provides paralyzed individuals with hope for a better life and a better future. There is no better accomplishment than inspiring this hope.
As the PTW Chair, what would you like to see PTW accomplish this year?
I would like to see us continue to strengthen our financial position and obtain donations and grants so
that we can make PTW's training program available to everybody who needs it, regardless of their ability to pay. Many of our clients have numerous other health-related expenses. We rely on donations to offset the cost of client workouts at Push to Walk. We also have a robust "scholarship" program that makes training at our gym available to some individuals who have a demonstrated financial need. Keeping the scholarship funded is a personal priority for me.
With respect to potential donors, why should they support PTW? How does donating benefit
individuals and the greater good?
We account for every dollar that is donated and use it in the most productive way possible for our
clients. Many of our clients have a trainer and an aide. We need to pay for the costs of both individuals. In addition, donations help us maintain our equipment and acquire new machines and technology that our clients need.
It is also important to keep in mind that the organization is local (serving people in Bergen, Morris,
Passaic and Union counties, among other counties). Though our network is national in scope. Supporting
Push to Walk can mean you are helping your neighbor. Also, PTW not only helps the individual, but also supports the whole family.
What is the best advice you can give to someone with a spinal cord injury?
The best advice I can give to someone who is newly paralyzed is to focus on what you can do in life and
not what you can't do. I would tell them to exercise as much as possible and to join a support group.
Being in a wheelchair is challenging and frustrating, but that does not mean you can't live a full,
productive life. You have a choice.
Are there any key messages you would like to communicate to individuals who have had spinal
cord injuries or traumatic brain injuries? What words of encouragement can you offer to them?
The message to anyone who is dealing with paralysis is to not give up on yourself. You are not alone.
You can do this, and you can make a life for yourself. Your life can be as rich and rewarding as you allow it to be.
"Push To Walk has helped me by allowing me to understand that my disability does not
define me and that anything is possible as long as I am willing to work at it both physically and
mentally," Gene told me.
During PTW's 15th anniversary year, Gene plans to spread this sentiment to others and
open up a world of possibilities to individuals who are paralyzed or have traumatic brain
injuries.
Click For Post