Paul and Nancy Sutor, PTW Anniversary Gala Co-Chairs, recognize PTW Service to Paralysis Community
Creativity. Commitment. Professional Excellence. According to Paul and Nancy Sutor, longtime supporters of Push to Walk (PTW), these are the characteristics of the PTW trainers and administrative team who have contributed to the organization's growth and sustainability.
As PTW celebrates its 15th anniversary supporting the paralysis community, Paul and Nancy, who are co- chairing PTW's Anniversary Gala event on September 29th along with founders John and Cynthia Templeton, reflect on the significance of this milestone.
"This anniversary is really about celebrating PTW clients and the strides they have been able to make in their lives as a result of working out at PTW, a nonprofit gym that caters to those with neurological and mobility impairments", emphasizes Paul.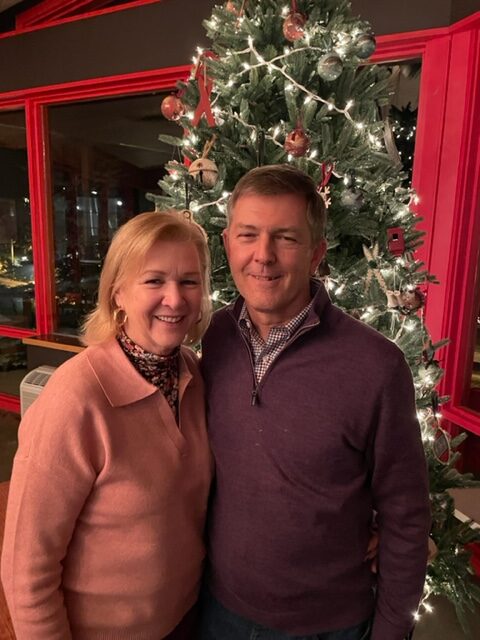 Serving a Growing Population
"When PTW was first founded, it focused on providing an exercise and training facility for individuals with spinal cord injuries. Many of our clients were those injured as a result of accidents," explains Nancy.
"Today, PTW serves a broad range of clients with neurological impairments and mobility issues, including those who have traumatic brain injuries, Multiple Sclerosis, and Parkinson's Disease. We also help individuals who are recovering from strokes and other conditions that limit one's mobility," she adds.
This population – and the need for PTW – is growing.
The facility, with its specialized equipment and certified trainers, fills a void in the lives of many of these people. When insurance-covered physical therapy ends, they often have no place to turn to work out and build the strength necessary to perform every-day tasks.
"PTW fills this void thanks to our donors," states Paul. "We provide customized training to each client at a highly reduced rate. Every hour a client works out is made possible through donor gifts."
"We hope that the Gala, while celebrating the journeys of our clients, increases awareness of how we help the paralysis community and provide these individuals with hope for a better life," emphasizes Paul.
All in the Family
Paul and Nancy first became involved in PTW a decade ago after learning about the organization from their son, Tommy. In 2011, Tommy, who recently received a PhD in Rehabilitative Science from the University of Florida, was a trainer and Program Director at PTW. He shared his enthusiasm about how the organization helps the often-forgotten paralysis community and gives them hope for a better life.
"He told us countless stories about how clients developed the strength and dexterity to manage everyday tasks, such as cooking, grooming themselves and even driving. He admired their workout ethic and was inspired by the smiles on the clients' faces when they re-learned how to pedal a bicycle or took a few steps," stated Nancy.
"We heard these stories and began to participate in the fundraisers, volunteering where we could."
"I began to attend open houses and watched client workouts. As a speech pathologist, I saw the therapeutic value of the training that the PTW team provide to clients," emphasized Nancy.
Keeping Pace with Change
Paul became a PTW Board member in 2012, first as Treasurer then as Board chair in 2017-2018. During this time, he worked with founder Cynthia Templeton in managing PTW's expansion.
Outgrowing its facility in Riverdale, NJ in 2016, Paul helped to oversee its move into its current facility in Oakland, NJ, which allowed PTW to hire more professional trainers and help more individuals with paralysis. At the same time, PTW hired its first Executive Director, increasing outreach to donors and the related organizations that support paralyzed individuals.
When the pandemic hit, PTW closed for a few months, but the doors reopened to increased demand from individuals who had missed the opportunity to work out in the specially equipped gym and the camaraderie they had built with the trainers and other clients.
A Look Ahead
PTW is a place that not only builds physical strength, but also builds the spirits of the individuals who walk through their doors.
"The trainers are exceptional," states Nancy. "They are creative, compassionate, and well educated on addressing the challenges endured by the paralysis community. "
"In addition to management leadership, they have been a driving force in PTW's growth and will remain so in the years ahead," adds Nancy.
"PTW recognizes the difficulties faced by paralyzed and disabled individuals. The PTW team constantly monitors new research and investigates new equipment to see what can best help their clients," states Paul.
Recognizing the financial challenges many of these individuals face, PTW strives to provide customized and economical workout options and offers an increasingly robust scholarship program, supported by donors.
"We have been honored to work with PTW and to co-chair this Gala event with such a professional staff team, "states Nancy, adding, "We urge anyone who is experiencing paralysis or knows of individuals who are struggling with mobility issues to visit PTW and attend an open house."
"It is an extraordinarily special place. There is no facility like it in central or northern New Jersey or the New York tristate area."
To attend the Gala event or make a donation, please go to:
15th Anniversary Gala Celebrate the Journey (qgiv.com)
Click For Post