Our Blog
Good Fortune in 2020
Today we celebrate thirteen years since we opened our doors on January 15, 2007 and for that we feel pretty fortunate.
Fortunate to
…be one of a short list of Neuro Activity Based centers across the country.
…have worked with and helped over 250 motivated individuals on their continued journeys after injury or diagnosis.
Fortunate to
…maintain relationships with local colleges and universities and be part of the learning experiences of students from Montclair State University, Ramapo College, and William Paterson University.
…experience such immense generosity and support from our loyal donors over the years.
Fortunate to
… employ a smart, creative, and dedicated staff of Neuro Exercise and Administrative Professionals.
…have a strong Board of Trustees providing exceptional leadership.
Thank you to all who have contributed to our good fortune over the years.
A special thank you to the Templeton Family who took their personal tragedy and created a non-profit to help many more than their own family or even those living with spinal cord injuries. Thirteen years later we serve those with spinal cord injuries, traumatic brain injuries, cerebral palsy, multiple sclerosis, stroke, and other neurological mobility conditions.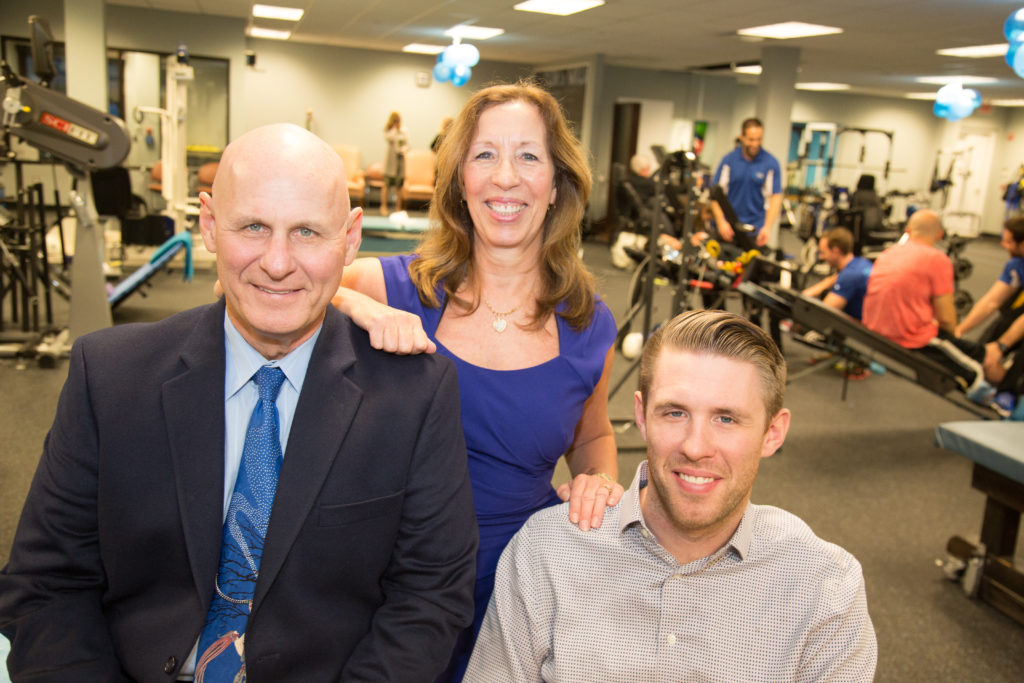 "Good fortune is what happens when opportunity meets with planning."
-Thomas Edison
Beefsteak, Beverages, and Bread Towers. Oh My!
Most of our supporters are familiar with our Annual Golf Outing and Casino Night, but not everyone has heard about our Beefsteak. Push to Walk (PTW) held its inaugural Beefsteak back in 2015. The idea was presented by a dedicated member of our training staff and the entire PTW Team was in agreeance that it was the perfect addition to our annual event calendar. His hope was to expand our circle of supporters by offering an event that didn't require interest in a specific hobby. The Beefsteak did just that and quickly became a favorite among our clients and staff by offering an affordable, fun, and family friendly evening out.
Our 5th Annual Beefsteak is right around the corner and you won't want to miss it!
Join us Saturday, November 9th at the Bloomingdale Firemen's Hall. The evening will include delicious beefsteak provided by the volunteers at the Bloomingdale Firemen's Hall, beverages, bread tower contest, 50/50 raffle, tricky tray, and great company!
Maybe you grew up attending beefsteaks and know how delicious and fun they can be…JOIN US!
Maybe you aren't from New Jersey and the idea of NOT eating bread and instead using it as makeshift Legos seems absurd—JOIN US and see what all the fuss is about!
All the fun begins November 9th at 7PM at the Bloomingdale Firemen's Hall (97 Hamburg Turnpike, Bloomingdale, NJ). Tickets are $50 per person. For more information or to purchase tickets, email Kate at kwolfe@pushtowalknj.org.
All proceeds from the event will benefit Push to Walk's mission to provide individualized workouts and resources to people with spinal cord injuries and other forms of paralysis to optimize current quality of life and to prepare for future medical advancements.
Supporter Spotlight: Segovia
Since opening almost thirteen years ago we have been lucky to have great support from many individuals, businesses, and foundations. Every supporter has left their mark on our nonprofit, but there are those who have been there from the start. The Segovia family of restaurants is one of those long-standing relationships.
We were thrilled to learn and are happy to share that one of the owners, Manny Martinez, is opening Segovia Tavern right here in Oakland, NJ!
Segovia Tavern offers a dining experience inspired by the rich bold flavors of Spanish and Portuguese cuisine. The soft opening of the restaurant is right around the corner (about 2 weeks away) and Oakland locals should add Segovia Tavern to their list of must eats! Who knows? Maybe it will end up in your date night rotation.
We will work with the restaurant to spread awareness of our nonprofit's mission and vision in the future and look forward to partnering with such generous and caring people, who have supported Push to Walk in many ways over the years.
Stay tuned for details on when and how we will work together in the future!
* Please note that at this time, Segovia Tavern is not accessible for people using wheelchairs, but they do plan to change that in the near future.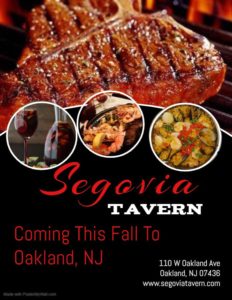 Blog Categories